Izuminka is a fashion expo that features international designers, stylists and models hailing from European countries. These talented artists and performers will share their inspired skills during the awards ceremony of the International Peace & Film Festival. The show includes local design collections and a national costume walk on the runway to commemorate the countries participating in the film festival.
Izuminka at the 2020 International Peace and Film Festival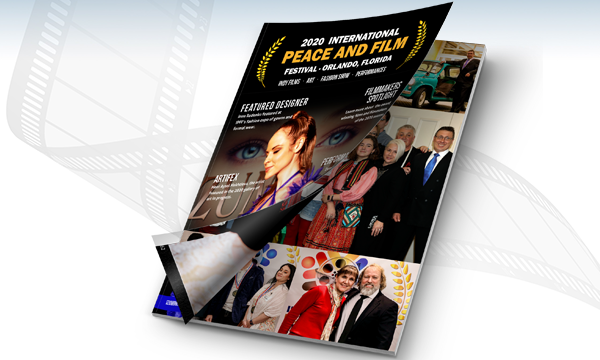 Izuminka 2018
---
Order a Printed copy and it will be sent directly to your mailbox. When placing an order, we recommend the options: Magzine, Medium Size, Full Color
Video of the first "Izuminka" in 2014
For those not familiar with the original Izuminka held in November 2014, it was an elegant community event featuring 50 models from East European heritage wearing collections from local and national designers. The East European community united, volunteering their skills in makeup, hair, art, performances and design. The event attracted celebrities, politicians and diplomats, as well as a supportive Russian speaking community.
Izuminka Promo Video from 2018 Show
Learn More About Becoming a Sponsor
Program
The show will be made up of five segments as follows:
Pre Show: Mixing in the cinema lobby with filmmakers and vendor booths in the theater.
Opening Act: Welcome special thanks to sponsors followed by a lighthearted performance to launch the event.
First Run: Models will emerge to high energy music as a narrator describes the designs and featured items.
Awards: Winners in the Festival will be announced and presented awards, if attending.
Second Run: Models will present additional designer pieces and outfits.
National Costumes Grand Finale: Models will walk the runway in national costumes from countries around the world.
Final greetings and invitation to after party. See you next year!

Theater Floor Plan
Based on the dimensions of the Cinepolis IMAX theater, guest seating will accommodate maximum viewing of events, films and filmmaker interviews. Vendor spaces will be placed to allow interactive or trial exhibits such as massage, makeup or fitness related specialties around the room.
Location
Izuminka will at the Cinépolis IMAX Theater in Davenport, FL.
The address is:
Cinépolis
5500 Grandview Pkwy,
Davenport, FL 33837
Phone(863) 547-0480